China-UK Centre of Excellence expands to tackle global challenges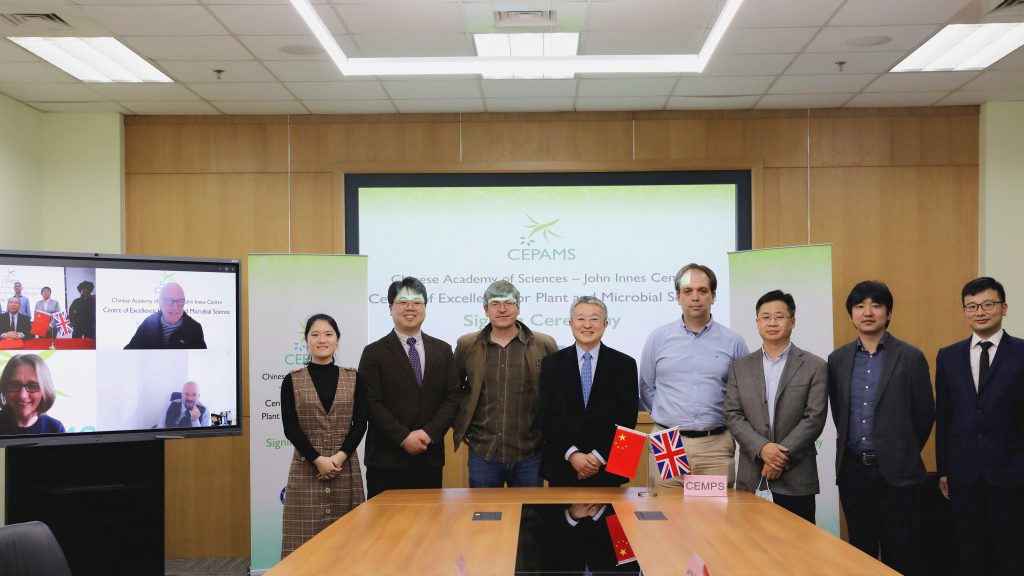 The successful CAS-JIC Centre of Excellence for Plant and Microbial Science (CEPAMS) was boosted today by the signing of a new five-year agreement between the three partner institutes in Beijing, Shanghai and Norwich.
CEPAMS was launched in 2014 and has been described as the most advanced Sino-UK collaboration in the life sciences. Its success is based upon a unique model in which virtual bilateral international collaboration is underpinned by a "bricks and mortar" approach involving real laboratories led by world-leading scientists.
The next five years will see an expansion of the CEPAMS laboratories in China and a renewed emphasis on harnessing the strengths of Chinese and UK science for global good.
Under the new agreement, signed during a videoconference today, the number of world-leading CEPAMS research groups will expand from eight to 15; an increase from 110 scientists today, to more than 200 by 2025.
CEPAMS' sights are firmly set on global impact. Under the new agreement, areas of research will include climate resilience in food crops, unlocking the anti-cancer potential of traditional Chinese medicine and developing new approaches to the treatment of TB.
A new Chair of CEPAMS' Governing Board was also announced today. Professor Sabeeha Merchant, takes the reins at an exciting time in CEPAMS' growth and ambition. Professor Merchant is Professor of Plant Biology at the University of California, Berkeley and a member of the US National Academy of Sciences.
Dr Yin Li, Director of the Bureau of International Cooperation, Chinese Academy of Sciences said: "I hope CEPAMS becomes a flagship joint research centre in UK-China collaboration, and the new generation of scientists will make CEPAMS an even greater success."
Professor Dale Sanders of the John Innes Centre said: "I am delighted by the success of CEPAMS in the last five years and tremendously excited by its future potential. China and the UK are world-leading in the plant and microbial sciences. I believe that our shared mission to harness this scientific excellence for global good will have great impact in the years to come."
Professor Weicai Yang of the Chinese Academy of Sciences Institute of Genetics and Developmental Biology (CAS-IGDB) said: "In the past five years CEPAMS has developed rapidly and been a wonderful example of China-UK collaboration, a big success both in science and diplomacy. We want this to be continued and this signing ceremony is a really great opportunity for us."
Professor Bin Han of Chinese Academy of Sciences Centre for Excellence in Molecular Plant Sciences (CAS-CEMPS) said: "I believe CEPAMS has been a great collaborative success and that it will promote the UK-China bilateral relationship in science and innovation in the future. Today's signing just bears witness that the successful completion of the first agreement is 'not even the beginning of the end, but is the end of the beginning', of our great collaboration."