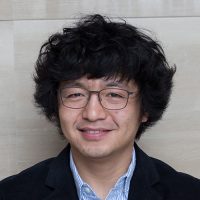 Fei Lu
Fei Lu is using novel approaches to identify regions of DNA in maize and wheat that are responsible for important aspects of the plant's growth, development and health.
His work is at the cutting edge of computing, machine learning, evolution and their application to plant biology. Fei's work has great potential to improve major crop species and contribute to global food security.
Fei joined CEPAMS in 2017 from the Institute for Biotechnology and Life Sciences Technologies at Cornell University. 
He has returned to IGDB in Beijing where he studied for his PhD, winning the President's award for the Outstanding Graduate of the Chinese Academy of Sciences.