PhD Rotation Program Positions Open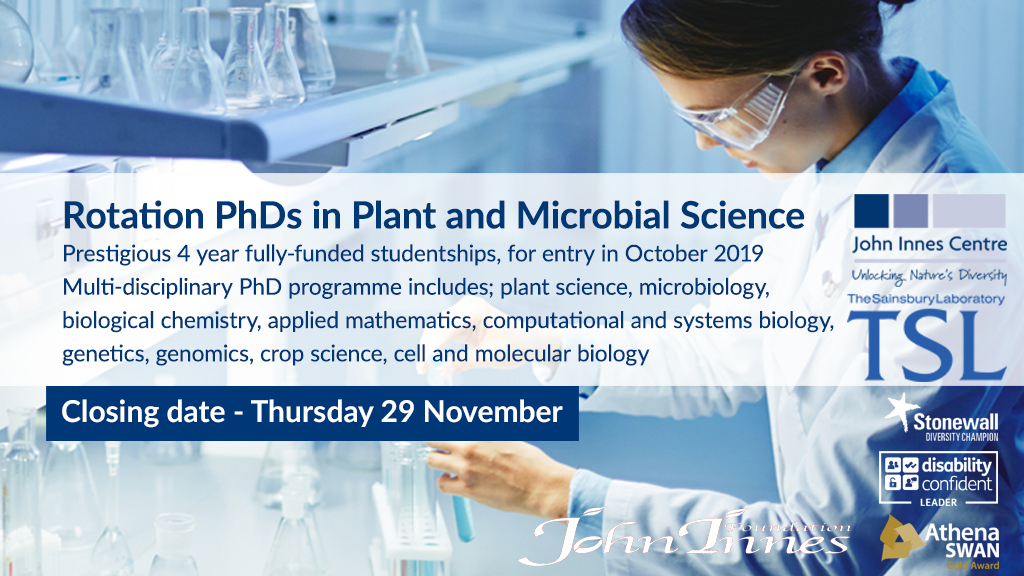 The rotation year provided a fantastic opportunity to work with researchers from around the John Innes Centre and The Sainsbury Laboratory, providing an invaluable introduction to world class research in plant and microbial science. 

– Scott Berry
The Rotation PhD programme in plant and microbial sciences, is designed for outstanding applicants with excellent academic records who show the potential for research at the highest level.
Special features of the programme include the freedom to select;
Three mini-projects in the first eight months
Both the topic and the supervisor for your main research project
During the first rotation year, you will undertake 10-week research projects with three different supervisors located in either of the two partner institutes.
You will rapidly become familiar with a wide range of scientific approaches that encompass;
Plant science
Microbiology
Biological chemistry
Applied mathematics
Computational biology
Systems biology
Genetics
Genomics
Crop science
Cell biology 
Molecular biology
The objective is for you to gain broad technical and theoretical training prior to the selection of a main research project and supervisor leading to the submission of a high quality PhD thesis within a total of four years.
The four-year studentship includes a stipend, university registration fees and research/training funds.
It is open to UK, EU and International students.
This programme involves ourselves and another internationally respected research institute in Norwich;
You will be registered for your degree at the University of East Anglia.